38 mm Rocket Motor Hardware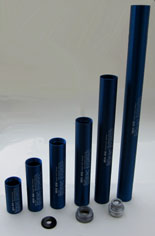 38mm Aerotech Hardware
All 38mm reloads for these motors are available here.
All closures may come in either gold, black or aluminum color. There is no other difference in quality except the color of anodizing.
38mm Open Closure
38mm Open closure (38FCO) is discontinued and replaced with 38FFC+38FCRR
38mm Motors with Closures
Since we do not have Aft Closures, we cannot offer complete motors at this time.