Aerotech HP Style Motor Casings and Hardware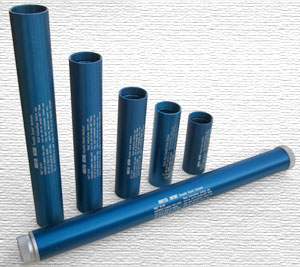 High-Power Style casings are members of the High-Power Casing family, but they are designed for smaller reloads. This means you do not need to be certified to use them. The HP-Style motors have 3 components - Casing, Forward Closure and Aft Closure. The "Motor" includes all 3 components. Forward and Aft Closures are same as for high-power casings and you need only one of each. Plugged Forward closure is also shared between HP and HP-Style motors.


Pictured above-right is 29mm Reloadable Motor System with Forward and Aft closure attached to 29/360 casing. Four smaller casings 29/60, 29/100, 29/120 and 38/120 (not pictured) are considered HP-Style and 29/180 fits both HP and HP-Style Reloads.
The reloads for HP-Style Motors are not compatible with 29/40-120 Casing.