Motor Retainers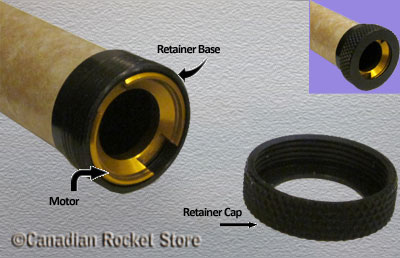 Motor retainers used in place of engine clip to secure motors in place by pressing motor's thrust ring between the retainer body and the cap. Having a retainer instead of a clip and thrust ring allows use of motors of different lengths. For example installing a 29mm retainer allows you to use hobby-style, HP-style and even HP motors in the rocket.
To install a retainer in a new rocket kit - do not install the thrust ring and engine clip. Attach the retainer base to motor mount tube. Done.
Black powder motors do not have a thrust ring on them, therefore you should install the forward thrust ring in the motor mount tube.