75 mm Rocket Motor Hardware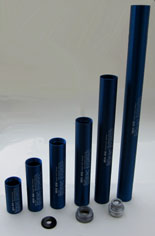 These 75mm motors are available by special order. We do our best to deliver them within 30 days. Please
let us know
if you need anything below. These motors can also be shipped to USA (from USA).
No reloads for the 1280 or 7680 motors are approved in Canada at this time. Reloads for 75 mm motors can be found
here
.
Orders containing 75mm motors may be subject to a minimum order amount, or additional shipping charge.

| Item | Price |
| --- | --- |
| 75 mm Full Set (1280, 2560, 3840, 5120, 6400, 7680 1 x aft, fwd closures and fsd) | $1430.00 |
| 75 mm Mid-Level Set (3840, 5120, 6400 1 x aft, 1 x fwd closures and fsd) | $865.00 |
| 75/1280 motor (casing plus 1 x forward and 1 x aft closures) | $280.00 |
| 75/2560 motor (casing plus 1 x forward and 1 x aft closures) | $325.00 |
| 75/3840 motor (casing plus 1 x forward and 1 x aft closures) | $354.00 |
| 75/5120 motor (casing plus 1 x forward, 1 x aft closures and 1 x seal disk) | $410.00 |
| 75/6400 motor (casing plus 1 x forward, 1 x aft closures and 1 x seal disk) | $450.00 |
| 75/7680 motor (casing plus 1 x forward, 1 x aft closures and 1 x seal disk) | $500.00 |
| | |
| 75/1280 casing only | $125.00 |
| 75/2560 casing only | $165.00 |
| 75/3840 casing only | $195.00 |
| 75/5120 casing only | $220.00 |
| 75/6400 casing only | $260.00 |
| 75/7680 casing only | $315.00 |
| | |
| 75 mm Forward Seal disk (FSD) | $33.00 |
| 75 mm aft closure | $68.00 |
| 75 mm aft tailcone | $77.00 |
| 75 mm forward closure | $88.00 |
| 75 mm forward delron plug | $27.00 |